Ann's notes from British library 4/99

Notes on William "Culpability" Heath (1739-1802)

--employed by Lancelot "Capability" Brown (1716-1783) in 1759, worked with him probably at Wrest Park (1758-1760) and Longleat (1757-early 1760s)

--worked at Bowood (1763-1766), Harewood (1758-1781), Crome Court (1750s-1770s is period when Brown was employed). Also Wentworth Castle, Yorkshire, 1764, Prior Park 1762-65 outside of Bath, Wimpole 1767-8, Compton Verney in 1760s. Brown worked at Claremont beginning in 1768/9.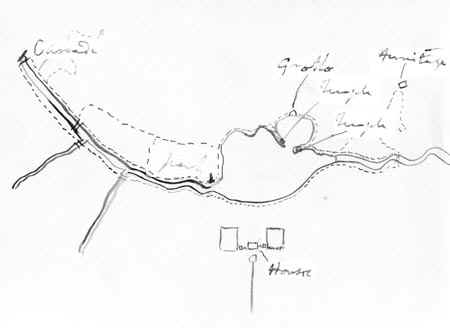 Stoney Grove his greatest commission, though he worked on other projects such as the park at Whitlow Court in Surrey, Alton Meadows in Berkshire and Ploverhampton in Kent.

"Culpability" is name given to Heath six years before his death when a bridge he designed at Alton Meadows collapsed and owner's daughter drowned. Later established it wasn't his fault, tree from grove had fallen on bridge and repairs were poorly done. Still, "Culpability" stuck and he never worked again.
Site Plan, Stoney Grove 1781, attributed to Heath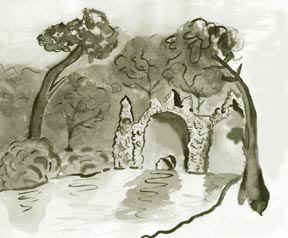 The Grotto at Stoney Grove, 1793 --unsigned

In the style of Gilpin's grotto sketch done at Painshill in 1772. Artist unknown (drawing is not as well executed as Gilpin's--AS)

Appears that Heath drew inspiration/copied that feature of Hamilton's Painshill landscape.