Great Badstow 156-4 Puckering Irregulars 37

Stand in captain Bert Walsham was upbeat after a resounding defeat by Great Badstow left the Irregulars without a win this season.
"It's a team game and I think we are really coming together," he said. "You expect the unexpected, but we were surprised by how easily they handled our bowling. Gladstone was a little wayward but we felt the twelve wides called in one over was a little excessive, and it did upset the lad. The pitch gave them some turn and old Tich has been around for a while and knows how to exploit a dodgy wicket. He bowled terrific."

Bert had no comment when asked whether the re-inforced underpants he was wearing had helped his play.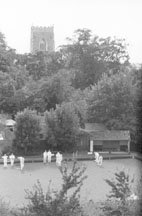 Puckering's Lumpy Gaites has been chosen to play for the area men's bowls team. A somewhat controversial choice, Lumpy is known for his aggressive play, and local legend still speaks of him bowling a ball before a competitor had left his stance. Lumpy is married with three children.